"What happened to us was a shakedown by gangsters wearing police uniforms and judges' robes, not for the sake of justice, but to maintain the civic infrastructure behind the glittering façade of Las Vegas with dollars squeezed out of its poorest citizens."
"The degree of civilization in a society," wrote the Russian novelist Fyodor Dostoevsky, "can be judged by entering its prisons." As a frequent visitor to Nevada in recent years, I have often been surprised by the cultural diversity and spiritual richness that can be found in Las Vegas. Still, I think that Dostoyevsky was right. A more accurate assessment of the degree of civilization in Las Vegas and for the broader society that the city claims to be "The Entertainment Capital" of can be made by entering the cells of the Clark County Correctional Center than by going to the top of the Stratosphere, cruising the Strip or even by taking in a Cirque du Soleil show.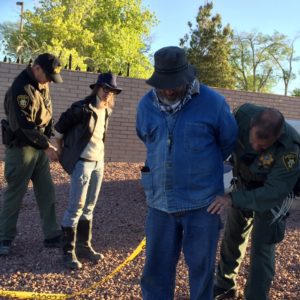 I was one of twenty five arrested by Las Vegas Metropolitan Police at Creech Air Force Base, the center of drone assassination by the US Air Force and the CIA some forty miles northwest of the city on March 31 and April 1. "Shut Down Creech" was a weeklong convergence of activists from around the country. Most of us staying in tents at a makeshift "Camp Justice" in the desert across the highway from the base, our days of discussion, study, song, reflection and strategizing built up to a dramatic series of coordinated actions, including street theater and blockades, that disrupted the lethal business as usual of Creech. While we expected to be arrested, this was not our desire or our goal. Once again, the police arrested the wrong people as they abetted the criminals and took those who acted to stop a crime in progress down town to be booked.
Since 2009, I have had at least two other trips on the police from Creech to the county jail at the prestigious address, 330 S Casino Center Blvd in Las Vegas, to undergo the tedious process of booking, the fingerprinting, mugshots and other indignities before getting kicked out onto the sidewalk a few long hours later. This time, however, after my friends and comrades were released one by one, I remained behind. I was kept in jail for the next four days, not for my part in the day's protest, but on a bench warrant due to an unpaid traffic fine.